Television's Best Antiheroes (Past)
Before we begin. Do yourselves a favor and CUT CABLE! The cable companies continue to jack up the prices. Grab an Amazon Firestick now. You can sign up for Amazon Prime, Netflix, Hulu, and HBO Go, and STILL, PAY FAR LESS THAN YOU DO FOR CABLE! Just click on the Firestick Pic and save yourselves a ton of money. On to the list.
Good shows have amazing heroes, but great shows have outstanding anti-heroes. Anti-heroes allow us to live vicariously through their willingness to straddle the line between good and evil. They break the rules, get the girl, punch douchebags, taunt the good guys, have the coolest dialogue, and kill without conscience. They remind us that deep down, we all wanna be a little bad. None of us could ever cross the lines that the people on this list cross. We have morals. WARNING! SPOILERS for, in no particular order, Sons of Anarchy, Bates Motel, Breaking Bad, Justified, The Wire, Ray Donovan, The Shield, Dexter, Deadwood, and The Sopranos. A quick note that people should take stock in as they read this. Three of the shows mentioned below share an actor in common. It's not a mistake. There's a reason the best shows have this man involved. One of the roles may have been smallish, but he stole every scene when he was onscreen.
10- Norman Bates was cuckoo for Cocoa Puffs. Thanks to the novel and the subsequent movie, viewers went into this series with the knowledge that Norman would become a serial killer with mommy issues. His descent into madness is well worth the ride though. He starts out as an innocent teen, in a new town, with a loving single mother, and a rebellious older brother. Then his mother Norma killed her rapist, and a switch flicked on in Norman. Urged by his own psychotic version of his mother's voice in his head, Norman would go on to kill his teacher, his crush, a friend's abusive father, his best friend's mother, another crush's husband, an ex-con, the Sheriff, and even his own mother. Oh, and let's not forget he bashed his father's head in too. Norman's murders almost paled in comparison to his twisted relationship with his mother. THAT was weird. Whenever he committed murder, he took on Norma's persona. She was in his head, justifying every ounce of spilled blood. In the end, it came down to one brother killing the other. I'll let you find out who won.
What is an Antihero?
Watch and Learn
9- Ray Donovan overcame being molested by a clergyman and having one of the worst fathers imaginable to become the fixer every elite member of Hollywood turned to, to clean up their messes. He walked into rooms unarmed, and somehow always left with the other guy's gun. Ray snuck actors into rehab, made evidence disappear, brokered payoffs, blackmailed an FBI agent, and covered up murders like Beethoven created symphonies. With Ease. Hollywood starlets found him sexy, and he radiated an air of self-confidence most of us can't muster when we're alone in the mirror. Beneath the confidence, he was a broken man, an alcoholic, that couldn't outrace the horrors from his past, and excelled at self-sabotage. His every move was intended to help his family, but things always went sideways. He was a horrible husband, father, and brother. The irony of Ray Donovan was that as talented as he was at cleaning up everyone else's' messes, he couldn't clean up his own.
8- Tony Soprano was a depressed gangster that hated his own Mother almost as much as he hated himself. Although he considered himself the sad clown, no one dared to laugh at him. As the head of the DiMeo crime family, Tony ran North Jersey through intimidation, and a willingness to make anyone that crossed him swim with the fishes. He even went to the mattresses (war) with New York, knowing he was far outgunned. Tony was a fearless soldier with crippling anxiety. Not an easy combo to cope with. He was man enough to seek out therapy, knowing it'd mean his death if anyone found out. While he had plenty of enemies around him, none proved a greater threat than his own family. His Mother and Uncle Junior conspired to have him killed but failed. When his Nephew Christopher became an out of control drug addict, Tony was forced to kill him and his fiancé before either could be flipped by the FBI. Tony was the archetype of the modern day gangster.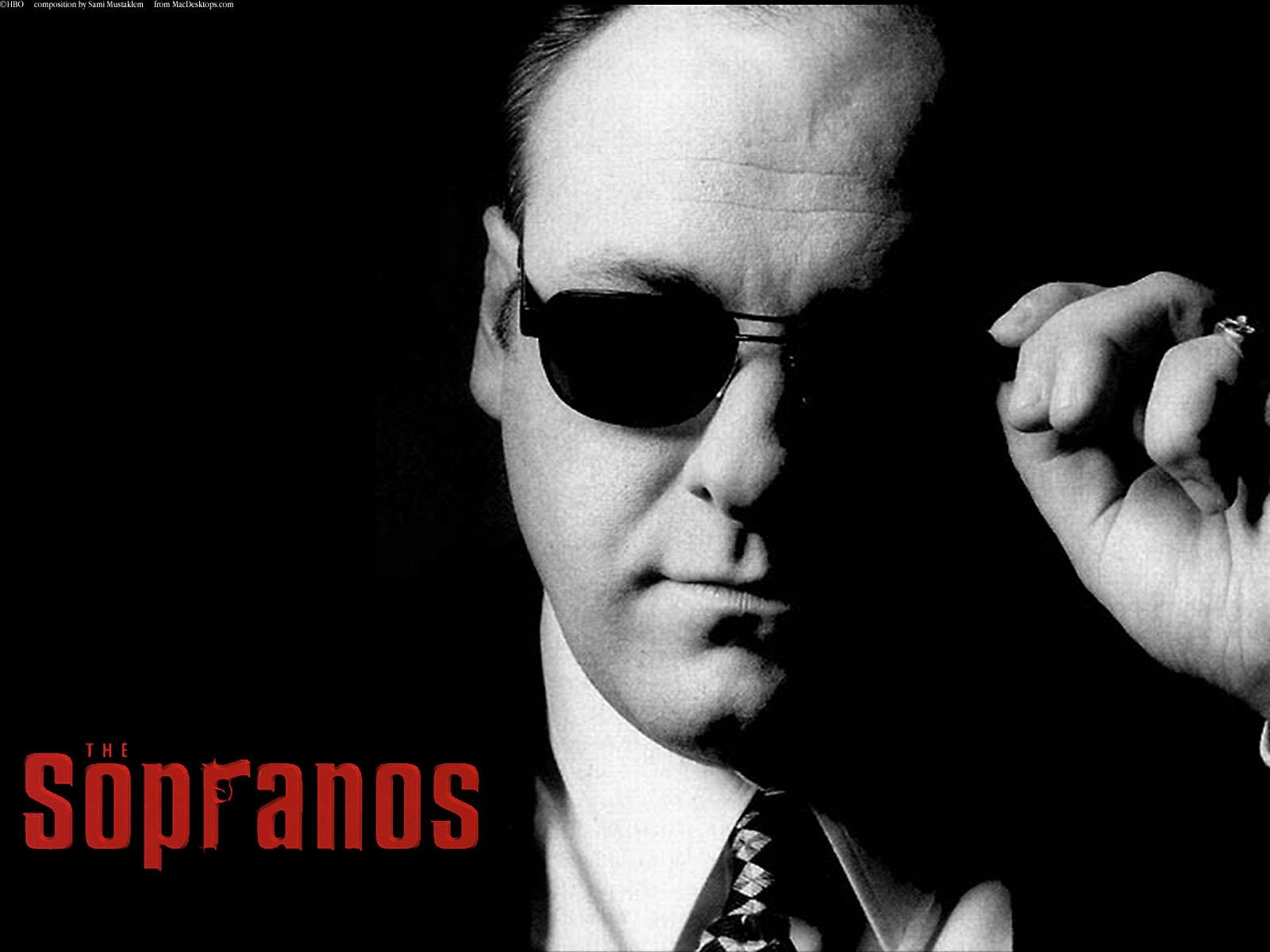 7- Jax Teller tried everything he could to save his beloved motorcycle club throughout all seven seasons of Sons of Anarchy. He fought to turn his club legit by pulling them out of the gun trade, but he had to sell his soul to do it. He worked with a bloody Mexican drug cartel, ordered the deaths of entire street gangs, and even killed his step-father in cold blood. On the surface, he was the epitome of cool. He wore his leather cut and all white sneakers proudly, tore through the streets on his bike, ran the town of Charming like he owned it, and had beautiful women throw themselves at him. Inside, he was a man divided, torn between his love for his wife and kids, and his love of the club. When his beloved wife was killed at the hands of his own controlling mother, Jax took it upon himself to kill her and the fatherly former Sheriff that tried to protect her. He faced more personal loss than one man should ever endure but never lost his swagger.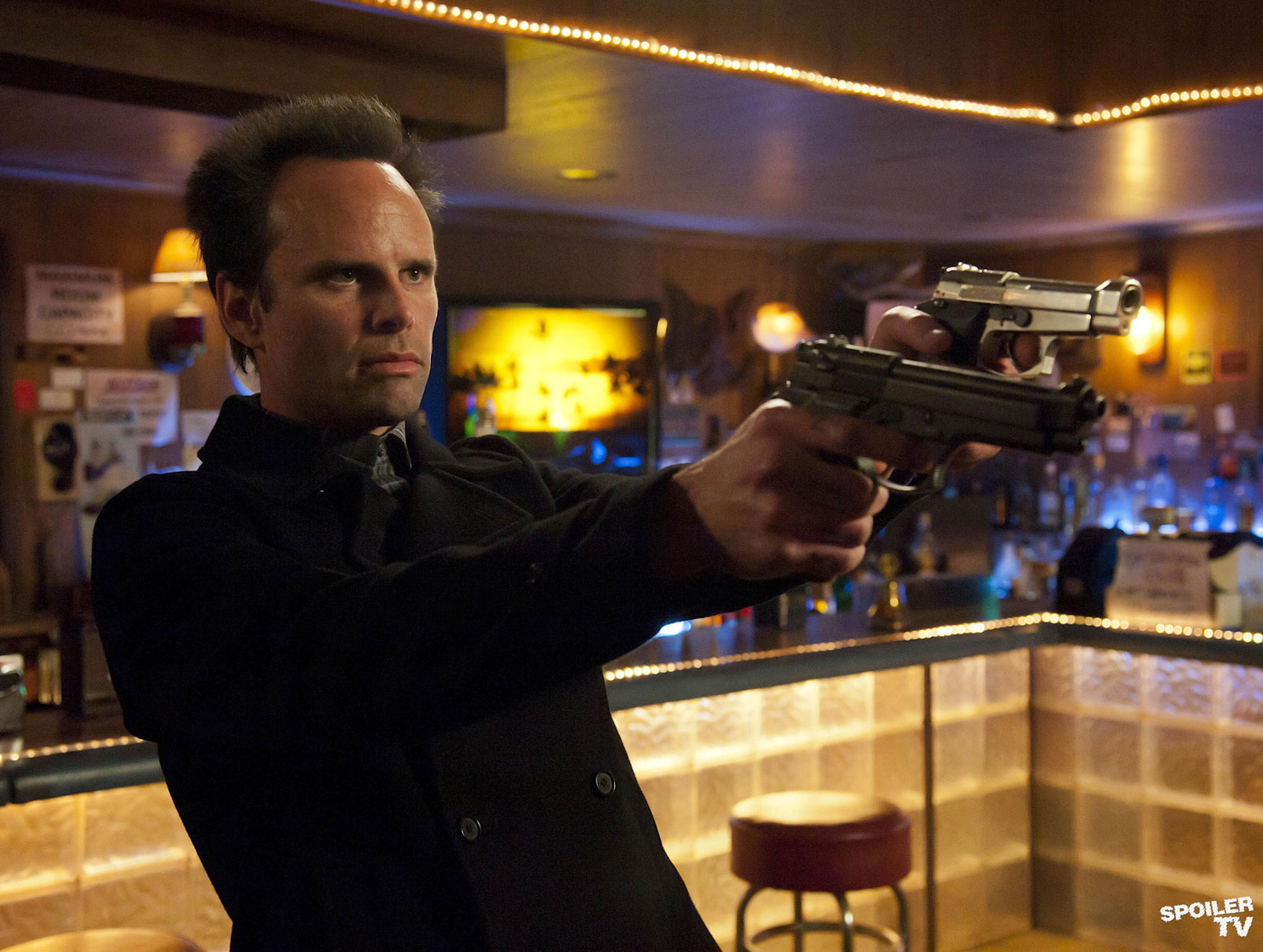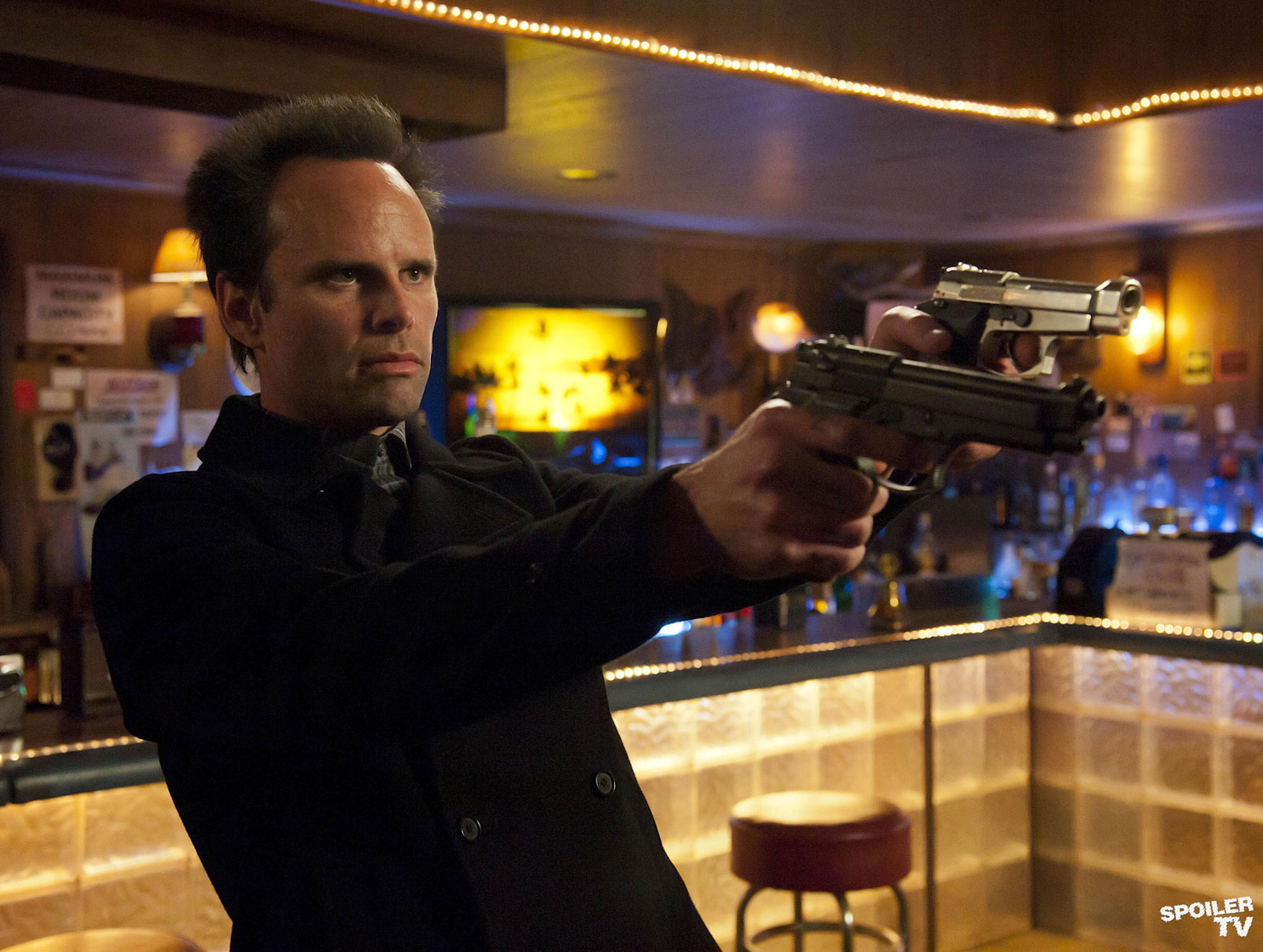 6- Boyd Crowder was the smooth-talking redneck with the brilliant Elmore Leonard dialogue that was supposed to die in the first episode. First introduced as a white supremacist that blew up a black church, Boyd was also a bank robber, a born-again Christian, an unsuccessful pot dealer, an unsuccessful heroin dealer, an unexpected hero, a Romeo, a prisoner, a mass murderer, and an outlaw. He was a modern-day cross between John Dillinger and Billy the Kid, with overwhelming charisma that allowed him to talk his way out of any situation. Straddling the line between good and evil became second nature to Boyd. When it came down to an old-fashioned gun duel between he and his former friend Deputy Raylan Givens, Boyd refused to raise his gun, resulting in his incarceration. Throughout the series, Boyd was driven by something different from the other members of this list. Love. Despite the fact Ava killed her abusive husband, Boyd's brother, Boyd fell madly in love with her. Every move he made was intended to give them their fairytale ending, but when she shot him in order to get away from him, all that remained was the outlaw.
5- Omar Little was as cool as dry ice on HBO's The Wire. He walked the streets of Baltimore with a trench coat, a shotgun, and absolutely no fear. Omar was, as far as I know, the baddest gay man ever depicted on television. As a gay black gangster, he was ostracized by the street hustlers long before he started robbing them, but he never hid who he was. He was no Robin Hood. He kept what he stole, but he went after the most dangerous men in the city without hesitation, and only stole from other criminals. When violence didn't solve his problems, he played the police like they worked for him, acting as an informant in order to put his enemies behind bars. He strutted down streets run by drug kingpins, and the city echoed with the cry, "Omar's comin'!", as everyone scattered for shelter. That's pretty damn cool.
4- Al Swearengen was the potty-mouthed saloon owner that ran the old western town of Deadwood. He'd be even higher on this list if the show ran longer. A cutthroat Brit that favored the closeness of a good blade to the laziness of a pistol, Swearengen could be a downright terrifying man. He provided Deadwood with prostitutes and whiskey, but while money drove him, he genuinely cared about the town and the people in it.  His dialogue was not for the meek, but he could be hilarious at times, and his charisma carried the show. Although he was a criminal, he pushed for the most honest law-abiding man in town to become Sheriff. It's true that he later tried to kill said lawman, but he stopped himself when he locked eyes with the Sheriff's son. By the end of the series, they were even on the same side.
3- Vic Mackey was willing to cross any line in order to clean up the streets of Farmington in The Shield. He even shot a fellow cop in the face in episode one. Wait. What? That's right, you heard me. Vic Mackey upheld the law that HE created, and he wasn't about to let some boy scout cop prevent him from doing his job. He controlled the streets by deciding which gang he was going to grant power at any given time. If a gang grew too strong, he'd knock them down a peg by planting evidence, stealing their supply, robbing their money, or simply backing a rival gang. No matter who tried to control Vic Mackey, he ran over them, and when the walls finally started to close in around him, he had no problem turning on, or killing the men that trusted him most. Vic Mackey was a force.
2- Dexter Morgan killed killers. It doesn't get much more badass than that. He took justice into his own hands, and he wouldn't kill the innocent. Murderers, rapists, pedophiles, all met their demise in Dexter's kill room because he knew the system couldn't give their victims' closure like he could. What made Dexter even cooler was that he worked FOR THE POLICE. Let that sink in. He was a serial killer AND a blood splatter expert, called in to help solve murders. He'd then use the evidence to track down the killers on his own, make them face their sins, kill them, cut them up, and dump them in the ocean. Every season, Dexter had to outsmart the cops that he saw daily, and befriend deadly psychopaths in order to get close enough to kill them. His worst sin might've been turning his sister into a cop killer to protect him.
1- Walter White was the meanest deadliest chemistry teacher to ever touch a Bunsen Burner. He also managed to make the purest form of Crystal Meth to ever hit the streets. Walter started cooking as a way to earn money for his family after he eventually died from Cancer, but the money poisoned him. After his Cancer went into remission, he continued to cook because he fell in love with his own legend. It turned him into a heartless monster with an alter ego named Heisenberg. Soon, he killed a drug kingpin, poisoned a little boy, helped his partner's girlfriend overdose, put a hit on his DEA brother-in-law, and killed a beloved hitman. Walter didn't kill as many people as some of the men on this list, but what made him the number one anti-hero was his arc. He was a good man, but he became pure evil.